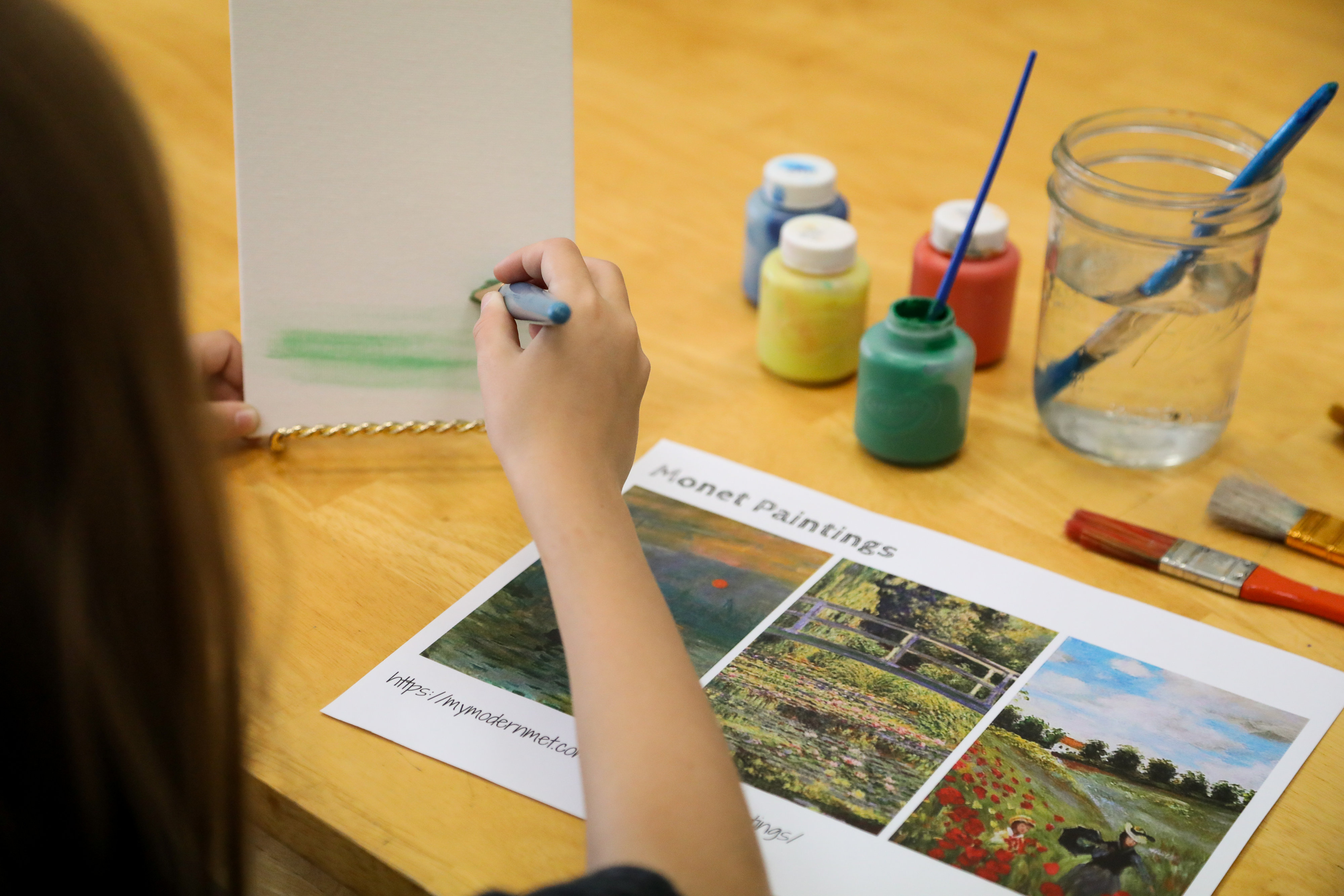 Joseph Chilton Pearce once said, "To live a creative life, we must first lose our fear of being wrong." Art has a way of making us think differently, see different perspectives, break through mental blocks, lessen our perfectionistic tendencies, and simply add color to our lives! When we infuse art into academics, the possibilities are endless. And this isn't just a feel-good sentiment… the numbers prove it!
In the traditional American classroom, high priority is placed on reading and math and forsake all else. Perhaps your child is struggling within these high priority areas, but shows interest in the "lesser" studies of art or humanities. The classroom teacher tries every trick in the book, eliminates distractions, reduce extra activities to allot MORE time on the kings of American instruction, reading and math. And where does that leave your child who is gifted and interested differently than what is deemed "the important things"? They are taught at a very young age that what they think and like and do are not good enough. And they should always strive for someone elses "more important thing".
Yes, reading and math are important. But, equally so are art, music, history, science. There is so much beauty in a child's ability to design a 3D sculpted replica of a building they study or for a child to sing on pitch a sonnet they once heard and still recall. The brain is a mysterious thing and inside of our children are unique talents and abilities that are special to them. Some will go on to be scholarly in the areas of reading and/or math, and a large group of children simply will not. Equally useful can each of our children be to society in their own right when they put their hands and feet to do the things that are skilled in.
With this right idea in mind, our WonderHere Family-Style curriculum employs art as a medium for learning and to provide an opportunity for children to make meaningful connections to the thematic lessons taught.
According to www.dosomething.org:
Students who study art are 4 times more likely to be recognized for academic achievement and 3 times more likely to be awarded for school attendance. [1]
2. Arts and music education programs are mandatory in countries that rank consistently among the highest for math and science test scores, like Japan, Hungary, and the Netherlands. [2]
In a study of a high-poverty schools in Chicago, the schools that were participating in the Chicago Arts Partnerships in Education (CAPE) made huge strides in closing the gap between high- and low- income students' academic achievement. [3]
Opportunities for art are woven throughout our curriculum, from PBL projects to Invitations to Create and arts-integrative math projects!
[1] National Endowment for the Arts, the National Endowment for the Humanities and the Institute of Museum and Library Services, "Re-Investing in Arts Education: Winning America's Future Through Creative Schools." The President's Committee on the Arts and Humanities. Accessed February 28, 2014.
[2] "Lessons from PISA for the United States, Strong Performers and Successful Reformers in Education", OECD Publishing, 2011. Web Accessed February 28, 2014.
[3] Catterall, James S., and Lynn Waldorf. "Chicago Arts Partnerships in Education Summary Evaluation." Chicago Arts Partnerships in Education. Accessed February 27, 2014, http://www.capeweb.org/wp- content/uploads/2011/05/champions.pdf.