March snuck up on us, and we can hardly believe this school year is more than half way over. Each day is filled with laughter, memories, friend-making, and intentional and lasting learning. We are loving doing "school" with our students, and our moms and dads and we have been working hard to make sure WonderHere is as wonderful as the students and families we serve. That is why we are just over-the-moon to share with you this most wonderful news…
WE ARE EXPANDING BOTH INDOORS AND OUTDOORS!!!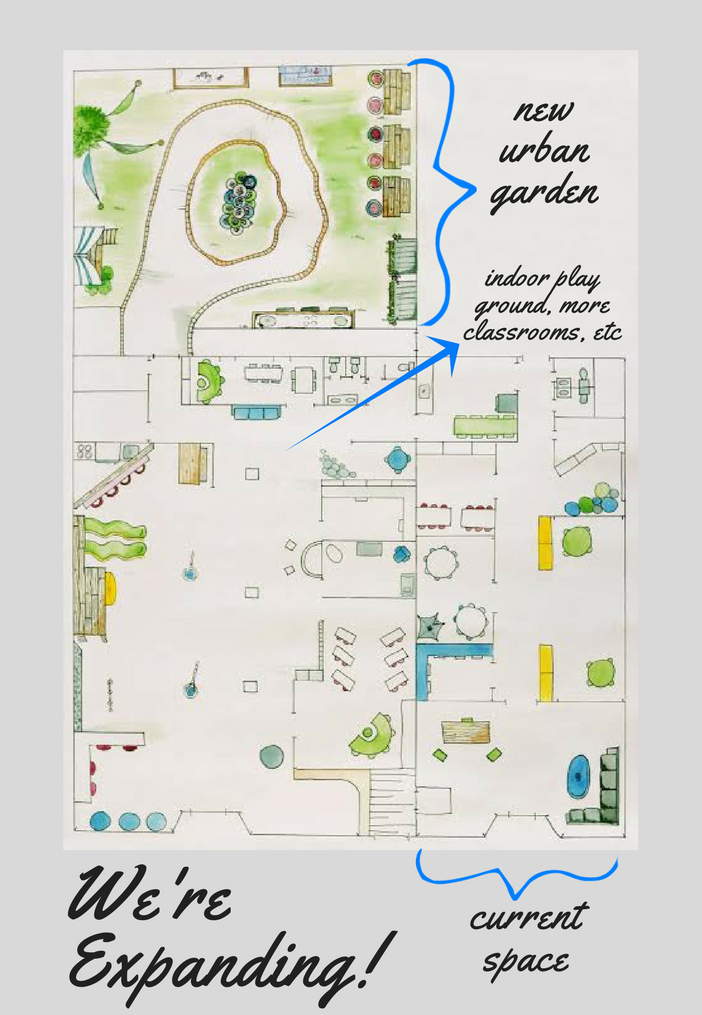 (This AWESOME sketch of our expansion was done by the one and only Beck Yohe from Art Centric Studios!)
Now, we know what you are thinking… expanding? To where? No, we are not moving. Instead, the business to our left is. And with that, we believe that this is the perfect timing to expand our walls so that our students, both current and future, have the space and room to continue to grow and play, create and explore. This decision was not an easy one, but we know in our hearts it is the right one. We love being a part of Downtown happenings and we couldn't trade it for anything. But, we have been listening to you and knew that our location limited us on some necessities. So, we set to work on problem solving, and the solution was right in front of us… well, right beside us… all along.
A major part of our vision for WonderHere is to revitalize and redefine play in our community. We believe that the best learning a child can do happens through laughter, games, imagination, and creativity. We wanted to be the space where kids came and learned new and exciting things without desks and tests and the "scary" things traditional school has to offer. An indoor playground is an essential part of that, we just didn't have the square footage to make it a reality from the start. BUT… now we will 🙂 HOORAY!
In our new space, we will develop a "deconstructed playground" of sorts – a place where slides and swings and climbing equipment is matched with inventor's tools, fashion designing sketch and development materials, technology and a creation station. A place where play meets creating meets inventing and exploring. A room where kids can climb and chase, sit and read, or think and create something new. This room will be the place where the real WonderHere "magic" will show, and we cannot wait to get the doors open and have our kids step foot inside.
Now we have been listening to our sweet mamas who have asked us to solve the outdoor play aspect of our studio stat, and we didn't think a viable solution would ever present itself in our location. But, we have a big God and the most wonderful property managers and have been continually shown favor by them, which we are ever so thankful for!  When we take on the next-door space, they have given us their blessing to fence in the back parking lot area so that we can create an outdoor oasis… the WonderHere Urban Garden!
This quiet, green space will give our children the much-needed opportunity within their learning day to sit under the open sky and extend their learning, creating, and exploring to the great outdoors. We will have free time outside, frequently hold classes in the garden, and give our students plenty of time to explore the raised beds, vertical garden, mud kitchen, sand box, and all the play elements incorporated into the garden design.
Now, since we are expanding the square footage of our building, that does also mean that we now will have the space to offer additional classes. Beginning this upcoming 2017-18 school year, we will be extending enrichment classes to Friday, providing classes for students ages 0-14, and also moving our enrichment classes from a subscription-based model to a one-time payment per selected 6-week learning session with each week class lasting 1 ½ hours. Some of these changes are major, but we know that they were necessary to offer the highest quality learning opportunities to our Lakeland homeschool population without having them need to commit to an entire school year or go outside of our WonderHere facility to get what they are needing for their child learning-wise.
This expansion is slated to begin immediately following the close of this school year in June and we are confident that it will be completed before the end of summer. At the end of this blog is a portion of our vision board, and we would love for you to explore it so that you can get a glimpse into what our space will look like next school year.
If you have any questions regarding this expansion, our current programs, or next year's enrollment which is now available online. Please email us at info@WonderHere.com or come to our next Open House, Wednesday, March 29th between 5:00-7:00. Space is limited… there are only 10 spots left in our full-time program, 7 spots left in The Core (reading and math), and 6 spots left in the Minis Track (3 & 4 year old program). So secure your spot today!
We want to extend to you the warmest thank you for cheering us on as we continue to walk this road, and please continue to send all your prayers our way. We are so excited to see WonderHere take on its new shape and form, and strongly believe that each member of our WonderHere family has had a hand in lifting this company up and carrying us on. We look forward to sharing our new space with you when it's ready!
– Team WonderHere
---
Indoor Expansion Photo Gallery
---
Outdoor Expansion Photo Gallery