Happy Mother's Day! Growing up, I always loved Mother's Day. I loved the example that my Dad set for us in showing us how to celebrate my mom. It truly was a day filled with celebration. Being a mom means you wear many hats, and this is a day for you to be celebrated! You are such a hard worker, a warrior, and honestly the list goes on and on. Please remember it is the little things that your children will remember the rest of their lives. Yes, they will remember the elaborate projects or trips that you go on. But it will be the hugs, support, and traditions that you start that will stick in their minds as they go through their lives. I'm sure one day when they have children of their own, they will call you to tell you thank you. I know I did.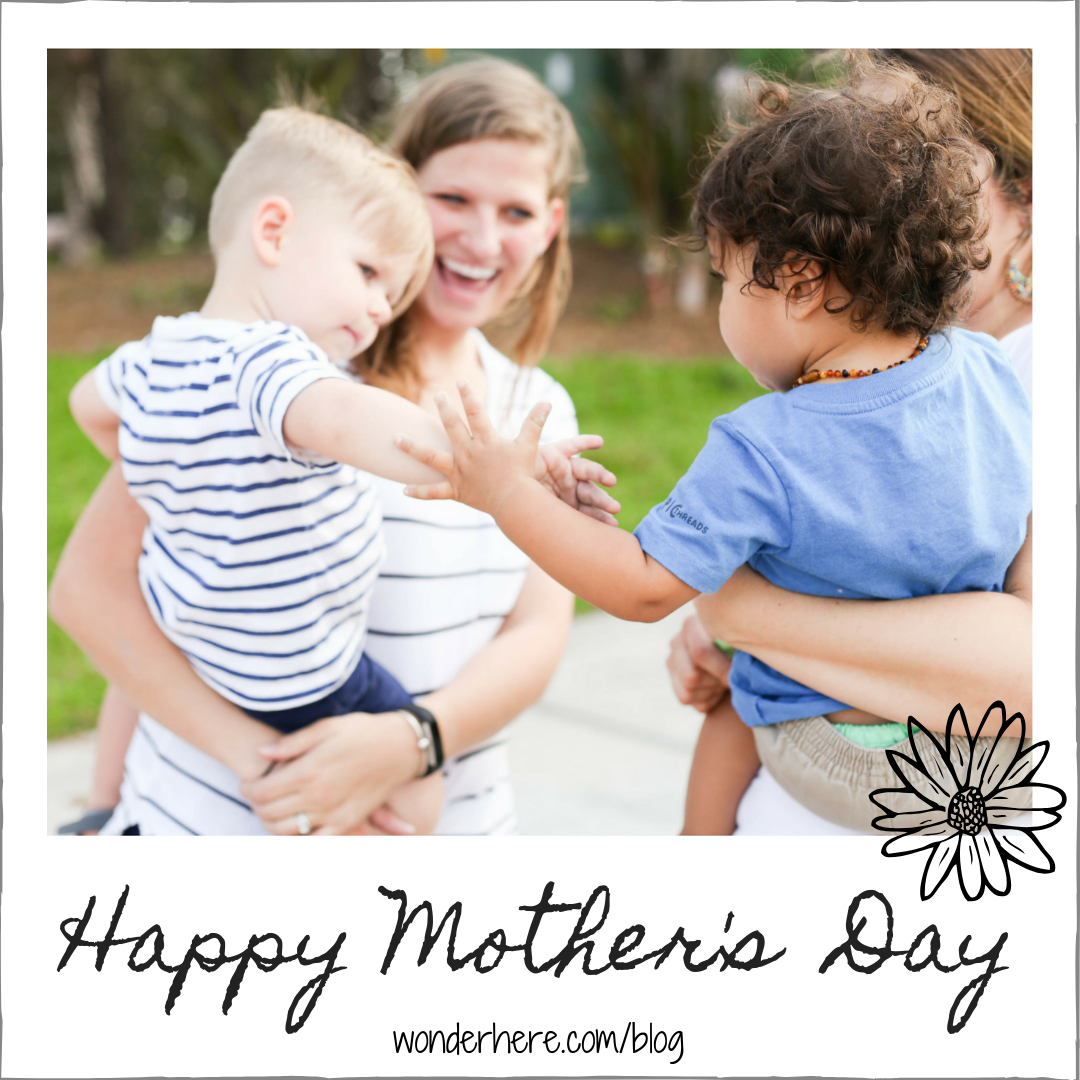 WonderHere Dads! Use this day to show your wife how much she is appreciated. Celebrate her! Give your children opportunities to serve and celebrate their mom. Maybe you give them the opportunity to make her breakfast, all by themselves! Send your wife into the bathroom… ALONE. Tell her to take a long shower or bath and to relax! While she's in there, have your children make your wife a card. Trace their hands, let them draw, or write a letter or a poem. I promise you, your children will enjoy this day just as much as your wife!
WonderHere Moms! We wanted to take the opportunity to allow your children to write you a little note telling you what you mean to them! Here are just a few of the MANY we received!
Dear Mom, I love you because you try to make everything fair. Also, you stand up for me. Your cooking is delicious and you always make sure I'm happy. From, Cooper.
Dear Mommy, What I love about you is that you take me fishing and you help me with soccer. You take us so many places, you also feed us. From, Hudson.
Dear Mother of Mine, I love you! Thank you for all you do for daddy, Mackenzie, and I. If not for you, we would probably still be living in Atlanta. I am glad you are my mother. Sincerely, Parker.
Once upon a time there was a Mom and the Mom loved her kids. The girl loved that so much. The end. I love you so much Mom. Love, Bella.
Dear My Mommy, Roses are red, Violets are blue Here's what I love about you: You clean up poo You clean the barf, You make dinner too. You whoop our butts, You don't let us talk about cuts. Happy Mother's Day. From your favorite son, Shawn.
My Mom is the best because she cooks the best food, because she plays stuffed animals with us funny. She draws good, and does great poured art. So, this is why I love my Mom. Love, Avery.
My Mom is the best because she helps us and she loves us. And she is nice at all times and she's a great encourager! Love, Julius.
I love my Mom because she means the world to me and she's sweet of course, she is! Love, Rosa.
I love my Mom because she is silly! Love, Josie.
I love my Mom because she is sweet! Love, Israel.
I love you so much I could not wish for a better Mom than you. Love, Emmersyn.
We couldn't say it better than that! So, here's to you Moms! Enjoy your day.