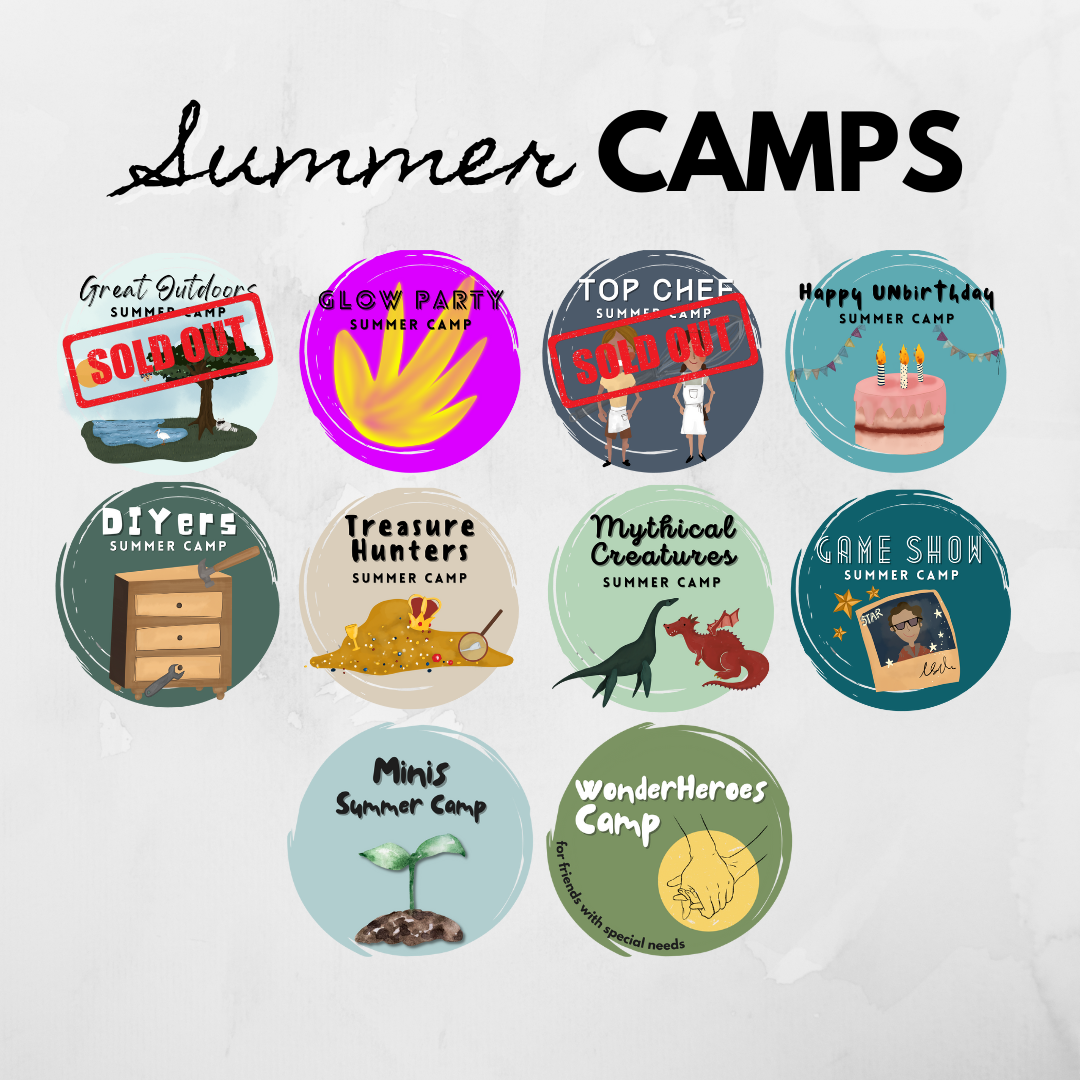 Are you ready for the best summer of your kid's life?!
At WonderHere, we believe childhood is something to be cherished, preserved, and enjoyed. Our summer camps will leave your children FILLED with wonder.
Location
Camps are located at the WonderHere Farm in South Lakeland (5120 Colbert Road, Lakeland 33812). 10 acres of beautiful grounds designed to elicit wonder in children. Plenty of room for indoor learning, outdoor play, interaction with farm animals, and access to nature.
Days & Times
WonderHere Summer Camps are perfect for children ages 5-12. Camps will be held for eight weeks June 5th – July 28th, Monday-Friday 8AM-3PM (we are closed Monday, July 3rd-4th for Independence Day).
What's Included in a Week…
Each thematic week, children will experience hands-on fun, exposure to new hobbies and skills, weekly movie day, weekly water day, and team competitions! Campers will get to interact with nature and farm animals. Click on each individual camp to learn more about that week's specific activities!
Teams!
Compete each week with your camp teams, sorted at the beginning of each week! Earn points for dressing to the theme each week, winning Minute to Win It games, displaying good character and helpfulness, and lots more!
Weekly Workshops!
Science experiments, cooking, crafts, book clubs, obstacle courses, photography, creative writing, coding & robotics, STEM & Engineering. No more having to get on the waitlist for these specialties… our campers will be enjoying these experiences every week!
Sample* Daily Schedule
8:00-8:30 AM Drop-Off Window / Morning Free Play & Farm Chores
8:30-9:00 AM Morning Meeting & Minute to Win It Games
9:00-10:30 AM Morning Workshop Rotation (Cooking, Crafts, Board Games, YOGA)
10:30-11:00 AM Snack & Free Play
11:00-12:00 PM Team Competitions & Group Games
12:00-1:00 PM Lunch & Free Play
1:00-2:30 PM Afternoon Workshop Rotation (STEM & Science Experiments, Coding & Robotics)
2:30-3:00 PM End of Day Camp Round Up / Team Point Tally
*This schedule is subject to change.
Ages
Camps are designed for elementary-aged children.
Please Bring:
A lunch, snack, and refillable water bottle daily.
Cost Options
Full Week: $239 a week (Monday – Friday, 8 AM – 3 PM). If you need extended hours, please let us know! If there is enough interest in extended hours, we'd be happy to provide it at an additional cost.
Summer of Wonder Bundle: Early Bird Special! Purchase the whole summer upfront & receive 1 camp week FREE. Bundle option is limited, so get it while it lasts!
Sibling Discount: Full price for the first child, 10% for every additional child (automatically applies when you purchase two or more of the same camps, discounts cannot be combined)
No Refunds
We do NOT issue refunds for Camps or Workshops, however we can give you a credit for future WonderHere camps or programs.
Click to sign up for camps below!
Is the camp you want out of stock? Join our waiting list...