Bring your family to come play at the farm!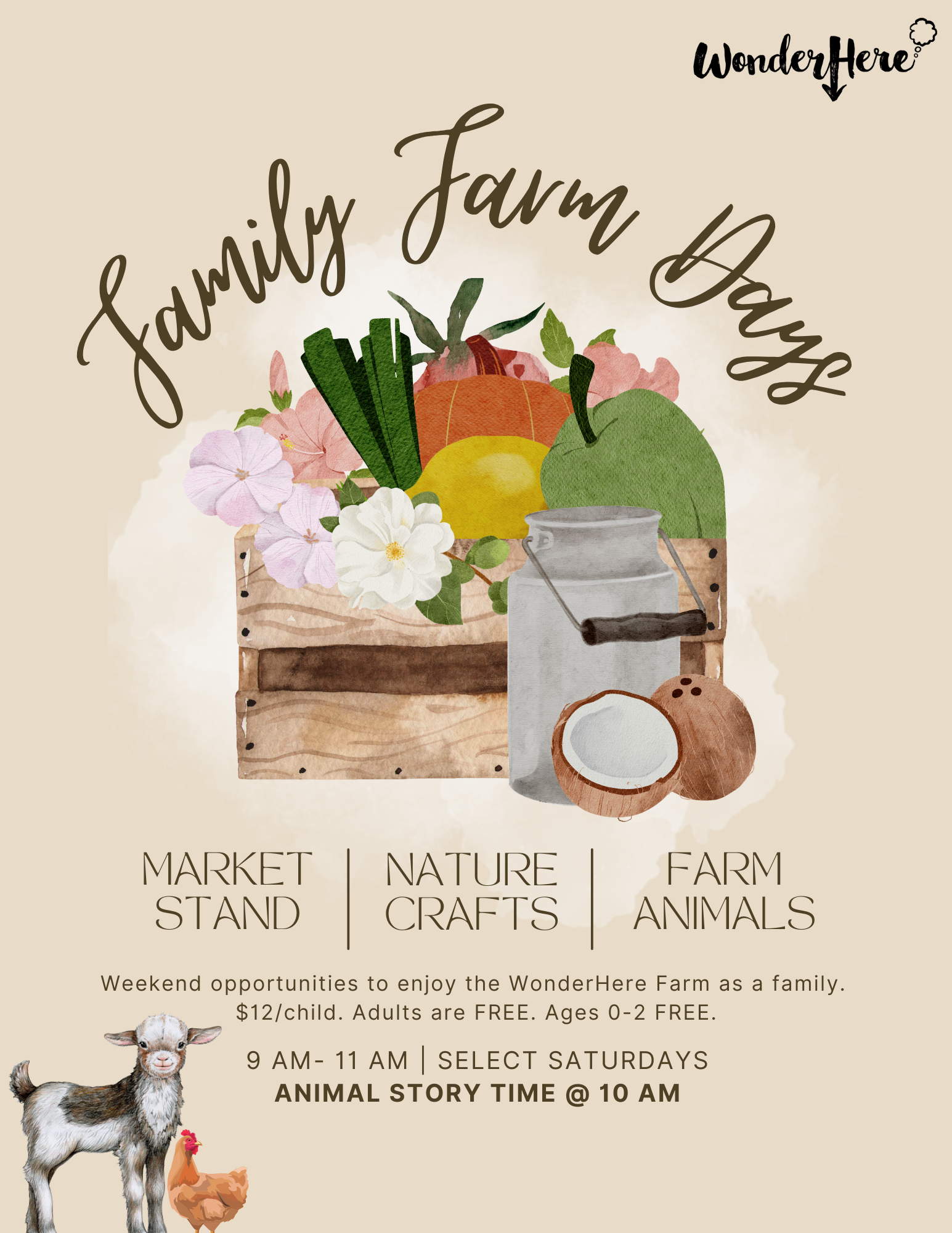 Did you know that ANYONE could come enjoy the WonderHere Farm? You don't have to be a part of our educational programs to enjoy all the beauty, peacefulness, and FUN that the Farm has to offer.
These special Saturday morning events are designed to promote family togetherness, connection with nature, and a sense of community. And did we mention… FUN?!
Bring your kids, grandparents, aunts, uncles, friends… ALL are invited!
Enjoy story time with our farm animals, market stands with fresh produce from our gardens, free play in The Yard and The Woods, nature crafts, and more!
Days & Times: SELECT Saturdays, 9AM – 11AM
Cost: $12 for adults AND children ages 3+. Children younger than 3 are free!
Location: The WonderHere Farm (5120 Colbert Road, Lakeland, FL)
A little bit more about the Farm…
When we first began WonderHere, we had a dream to establish an urban-based play center where children could experience the walkability of Downtown, dine at local establishments for lunch, make Munn Park a classroom for the day, and sit on the lawn while studying.
But we grew faster than expected and did not truly understand (at the time) the deep need a child has for access to nature and playing outdoors. Within the years that we operated out of the Downtown location, we expanded within the walls of the building, took over outdoor parking space for additional play areas, and began to feel the effects of not having enough natural light or room to spread out.
After the pandemic, it became clear that our current location would no longer meet the needs of our community and we began searching for something new. Our farm location is a story of God's faithfulness and countless miracles that made this place a reality.
Seeing the children learn in the living room, climb the hundred-year old oak trees, caring for the goats, and collecting eggs from the hens… doing all alongside their families… it is pure magic…
…and we want to share that magic with you.