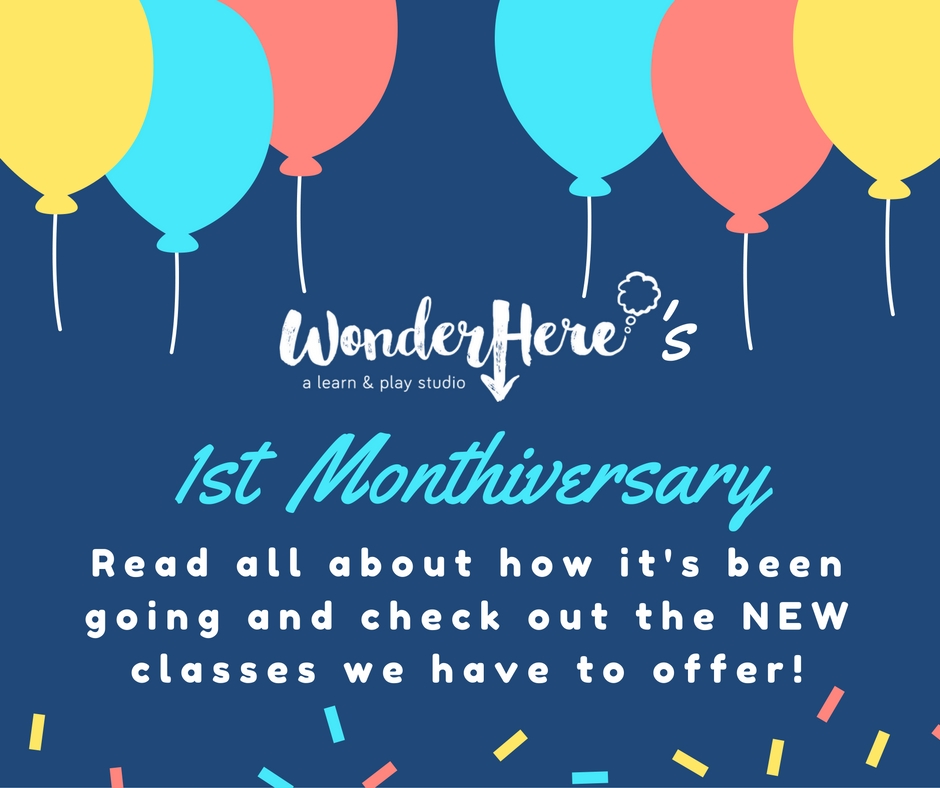 WonderHere Friends!
I can hardly believe it's been exactly ONE month since we officially opened our doors for our first school year. This has been such an incredible month of learning, growing, and creating for all of us. Tiffany and I, as teachers and newly-minted business owners, have really learned to tap into our "growth mindset" (the concept of being flexible, persevering, problem solving learners… something we teach our kids every day!). We've gotten the chance to implement some pretty awesome things we've done as teachers over the years, as well as having to "unlearn" some practices that don't fit into the vision we have for WonderHere. One example is "unlearning" the idea of standards-driven teaching and replacing it with student-driven teaching. We still have a curriculum pacing schedule we follow, however if a student isn't understanding a concept or simply isn't there yet, we take a step back, return to their last place of understanding, and build from there. We believe it's better to take our time and build a solid foundation than rush our kids and have their understanding crumble in the future.
It's things like this that make me so glad I took the leap of faith from public education to this type of alternative education. No longer do I have to look a child in the eyes and tell them, "Sweetheart, I know you don't get this right now, but we need to move on, and I promise we'll try our best to catch you up as we go." No longer do I have to look parents of a third grader in the eyes and tell them, "I know your child is very behind in their reading skills, but here's all the ground we have to cover by March in order for your child to pass the test and move on to fourth grade." I couldn't take one more year of being that teacher.
Another thing I'm super grateful for is the amount of FUN I get to have at my job! I love the classes I get to teach – from the core subjects like reading, math, and science, to elective classes like cooking! The kids that come to us are filled with wonder, curiosity, and a hunger to learn, and are eager to have fun learning every day. And of course the wonderful team I get to work with makes it easy to wake up every morning.
And now, we get to add even MORE fun into our day! We are adding several specialty classes to our schedule that will get your child learning without even knowing it! Below is our entire schedule with the added specialty classes in red:
We will launch these classes when we have at least 5 people on the waiting list. If you'd like to be put on the list, drop us a comment below or email us at wonderhere.llc@gmail.com.
We're so excited to continue moving forward, and hope you'll join us! Before you know it, we'll be celebrating our year anniversary! Thank you for reading our blogs and supporting us! We couldn't do this without the amazing community we have backing us up.
As always, let us know how we can serve you!